C'est la rentrée pour le Xbox Game Pass. Microsoft ajoute une nouvelle collection de jeux au catalog de son service de jeux vidéo.
Après une disette, les fans de Xbox vont pouvoir profiter de nouveaux titres Xbox Game Studios en septembre sur le Xbox Game Pass. Enfin, « nouveau »… il faut peut-être le dire vite.
Les jeux qui arrivent dans le Game Pass en septembre 2022
Voici la liste des jeux ajoutés par Microsoft pour ce mois de septembre.
GRID Legends (Console et PC)
Disney Dreamlight Valley (Cloud, console et PC)
Opus Magnum (PC)
Train Sim World 3 (Console et PC)
Ashes of the Singularity Escalation (PC) – 13 septembre
DC League of Super-Pets: The Adventures of Krypto and Ace (Cloud, console et PC) – 13 septembre
You Suck at Parking (Cloud, console et PC) – 14 septembre
Despot's Game (Console et PC) – 15 septembre
Metal : Hellsinger (PC et consoles Xbox Series) – 15 septembre
Hardspace Shipbreaker (PC, consoles) – 20 septembre
Slime Rancher 2 – 22 september
Beacon Pines – 22 september
Grounded – 27 september
Moonscars – 27 september
Parmi les jeux que l'on retient, il ya la sortie d'acces anticipé du jeu Grounded développé par Obsidian au sein des Xbox Game Studios. Ce jeu de coopération et de survie vous place dans très grand jardin façon « Chérie, j'ai rétréci les gosses ». Cette version 1.0 du jeu devrait notamment apporter un délicieux scénario.
Hardspace Shipbreakeravait fait sensation sur PC en début d'année. C'est désormais une sortie sur console que le jeu indépendant peut s'offrir avec une arrivée dès le premier jour dans le Game Pass.
Pour un public plus familial, Microsoft continue de diversifier son catalog avec l'ajout du jeu Super Pets , issu du film d'animation récemment sortie dans nos salles obscures. La firme avait également ajoutéPat Patrouille ces dernières semaines.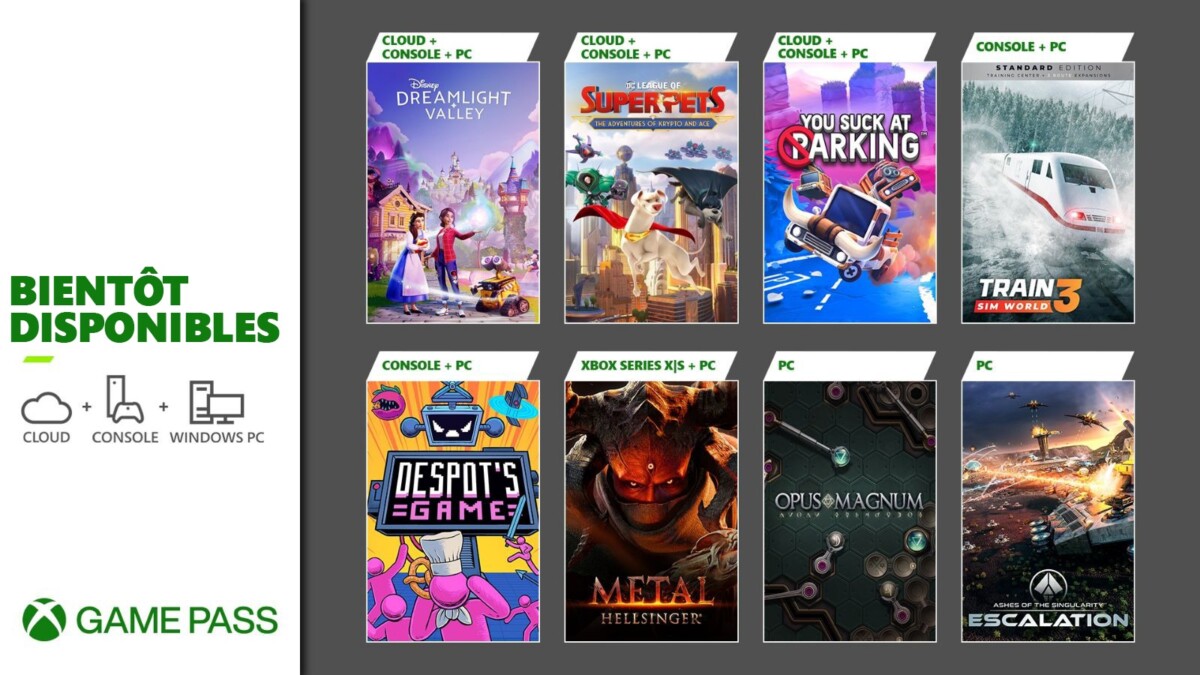 Gros départs du Xbox Game Pass en septembre
Plusieurs gros titres du Xbox Game Pass vont quitter le catalog en septembre. Voici la liste.
A Plague Tale: Innocence (Cloud, Console & PC)
Aragami 2 (Cloud, Console & PC)
Bug Fables: The Everlasting Sapling (Cloud, Console & PC)
Craftopia (Cloud, Console & PC)
Final Fantasy XIII (Console & PC)
Flynn: Son of Crimson (Cloud, Console & PC)
I Am Fish (Cloud, Console & PC)
Lost Words: Beyond the Page (Cloud, Console & PC)
Mighty Goose (Cloud, Console & PC)
SkateBird (Cloud, Console & PC)
The Artful Escape(Cloud, Console & PC)
Rappelons que vous pouvez bénéficier d'une réduction sur l'achat de ces jeux avant leur départ du service. De quoi permettre de continue une partie sereinement sans se presser.
---
Pour nous suivre, nous vous invitons à télécharger notre application Android et iOS. Vous pourrez y lire nos articles, dossiers, et regarder nos dernières vidéos YouTube.